Rainbow Bridge Dogs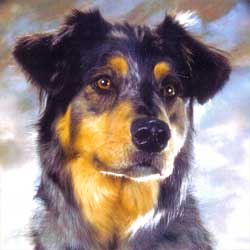 Call Name:

Smokey

Registered Name:

DreamQuest's Ole Smokey

Titles Earned:

ASCA-CD
CD
CGC
HCT
NA
NAJ
OA
OAJ
RA
RE
RN

Breed:

Australian Shepherd

Gender:

Male

Birthday:

October 18, 1998

Passed on:

2011

Owner:

Virginia Lewis

Notes & Brags:

Smokey is a rescue who works very hard to overcome his extreme anxiety when outside the house. He has tried for a long time to complete his CDX (1 leg) but cannot tolerate the out-of-sight exercises.
USASA (AKC Australian Shepherds) in 2004 he was the #1 Australian Shepherd in Agility Open (24\"), #2 in Novice Standard, #7 in Novice Jumpers with Weaves, and 9th Open Jumpers with Weaves.